Things To Do
With 5 beaches, 2 bays, a waterfront golf course, blocks of coastal cuisine, historic architecture and quaint shopping, there's wonder all around.
Experience Island Life
Coronado invites you to experience world famous beaches, sublime waterfront resort hotels, an unmatched variety of water activities and more.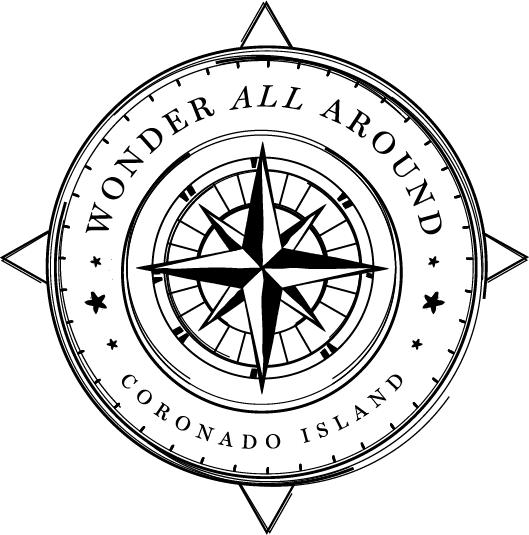 Island Map
Get the lay of the land and check out the main attractions.
Itineraries
We've assembled a handful of itineraries to give you some ideas of where to stay, what to do, and how to discover Coronado. Plus, we're guessing you'll find a few great reasons to extend your stay another day or two.
The Beach Cruiser
A delightfully sandy itinerary at the world-famous Hotel del Coronado
Day 1
Check-in and check-out at the same time - drop the bags in the room and grab a cabana on the beach consistently ranked among the best in America.
Book a table for dinner at Serea, featuring delectable, sustainable coastal cuisine with just a hint of Mediterranean flavor prepared by San Diego native, Chef JoJo Ruiz.
Day 2
Start the day with a tail! Enjoy an ​"Only on Coronado" experience: The splash-tastic Mermaid Fitness class at the Hotel Del's pool.
Set sail from Glorietta Bay aboard a sailboat from Seaforth Boat Rentals. They're ready when you are for the sailing adventure of a lifetime.
Day 3
Brunch at Serea in Hotel del Coronado tradition that never disappoints. The ocean-friendly menu by Chef JoJo Ruiz is robust with fresh seafood, a raw bar and seasonal ingredients grown by Southern California farmers.
Catch a ride over to Old Town San Diego and get immersed in Mexican tradition and heritage. From authentic eats to live performances to handcrafted goods, there's much to be savored in this hidden gem.
End the day by indulging your sweet tooth at S'mores on the Beach. This gourmet fireside experience comes with an à la carte menu of s'mores and other fireside favorites.
Day 4
Get the day spinning with a waterfront spin class right on the sand. Keep an eye on the horizon, as pods of dolphins tend to frequent the breakers every morning.
Pick up some coastally trendy swag for the folks back home with a swing through the Signature Shop. Designer labels, one-of-a-kind jewelry and beachy home décor are just waiting to be discovered.
The Silver Strander
A bay-to-breakers itinerary at the Loews Coronado Bay Resort
Day 1
An afternoon check-in sets you up perfectly for sunset happy hour on the veranda of the Cays Lounge. Enjoy live music as you cozy up at a bayside fire pit.
Take the hotel's ultra-convenient free shuttle service down the Strand into the village for a delicious dinner at local mainstay The Brigantine.
Day 2
Take advantage of Loews at the Strand, the hotel's signature beach service via golf cart shuttle over to the miles-long Silver Strand State Beach. Get set up with umbrella, towel and chair service — all you have to do is nap!
Book a relaxing and romantic twilight gondola cruise through the canals and waterways of the Coronado Cays. Bring a nice Pinot and they'll provide the glasses and blanket.
Day 3
Rent a bike and cruise the length of the Silver Strand on the island's two-lane bike highway, along the bay and safely tucked away from vehicle traffic.
Treat yourself and knead away the morning's bike ride with a spa treatment at Sea Spa + Fitness. Try an island-inspired body wrap or tropical sea stone massage.
Day 4
Start your day with some Namaste. Take a yoga class on the Coronado Cays marina dock, or pump things up with Marina Spin, a special spinning experience overlooking the marina.
Rent a personal watercraft and send up a little spray. If time allows, be sure to cruise under the signature blue Coronado Bridge.
The Orange Ave Mariner
A historically fun itinerary at the Glorietta Bay Inn Coronado Island
Day 1
Check-in and explore the mansion. Be sure to have your children ask the front desk about the ​"secret toy chest" for a fun treat! Then, straight to the pool for a dip!
Take a quick 8‑minute walk to historic Orange Avenue for lunch or dinner. Try Coronado's hotspot, The Henry. Head over early and do a little shopping along the Avenue's quaint boutiques. Be sure to save room for ice cream at MooTime Creamery!
Day 2
Enjoy a delicious breakfast on the mansion's outdoor veranda overlooking scenic Glorietta Bay, or dine in the historic Music Room surrounded by luxurious historic architecture.
Play 18 holes of the most beautiful bayside golf in San Diego at the Coronado Golf Course. Following your round, be sure to treat yourself to a relaxing and picturesque lunch at the course's Feast and Fairway restaurant.
Day 3
Paddle the San Diego Bay under the warm sunshine in a kayak. Tours and rentals are available through the hotel concierge, the City of Coronado Boathouse or Seaforth Boat Rentals.
Grab late lunch or early dinner at Coronado's own Coronado Brewing Co. or venture across the Bay for some nightlife in San Diego's famous Gaslamp District.
Day 4
Catch the ferry or call a Lyft and get in touch with your wild side at the famous San Diego Zoo. Once you're done getting to know the animals, take a few hours to explore the museums, botanical gardens, and unbelievable architecture at Balboa Park.
No trip to Coronado would be complete without a fresh seafood tower at Bluewater Grill at the Boathouse. Voted best seafood on Coronado!
The Bayfronter
In and around the Coronado Island Marriott Resort & Spa: Ferry rides, boat landings, local breweries, bike rentals and beyond.
Day 1
Check-in and have a stroll along the waterfront from Tidelands Park and under the famous Coronado Bridge, quite possibly the best view of San Diego's skyline you'll find.
Dinner at ALBACA, the hotel's signature restaurant, enjoy a blend of coastal cuisine made from the freshest ingredients in an inviting atmosphere — inside or al fresco with views of the San Diego skyline.
Day 2
Go biking around the island! Complimentary bike rentals are available for hotel guests to ride around the miles of trails on the island.
Take a stroll over to Coronado Brewing Company and let your senses take flight with some award-winning craft beers.
Day 3
Start with a quick ferry ride over to San Diego and witness history at the celebrated USS Midway Ship and Museum.
Pamper yourself at the Marriott's new 5,500-square-foot luxury resort spa with indulgent massages, facials, body scrubs and beauty services, as well as fitness classes and lap pool sessions.
Day 4
Take your un-landing to the next level with a morning paddle board session on the bay. Paddle boards, personal watercrafts, and kayaks are available to start your morning with an adventure on the water.
Dry off and try a little lunch and shopping at the Coronado Ferry Landing — Savor seafood at newly remodeled Peohe's.
Clean & Safe
Clean, safe, distant, but still fun!
Day 1
Nothing beats being on the bay behind the wheel a power boat. You don't need a special license and it doesn't take up your entire day. Rent a fully disinfected and sanitized boat on your schedule and by the hour from Seaforth Boat Rentals in Glorietta Bay.
Coronado's view of the Pacific is stunning. And you can enjoy the view (away from everyone else) while sharing a pop-up picnic! Savor a shaded sit-down lunch, dinner or just sunset cocktails for two or four. Contactless booking is available from Pop-Up Picnic.
Day 2
Coronado Golf Course is known for its scenic fairways and tee boxes. The sweeping views of San Diego Bay and the Coronado Bridge are well worth your time. Golf, by design, is the ultimate sport for safe distancing. Clean clubs and carts are available to rent.
Coronado Island is mostly flat which makes it perfect for bicycling. And there's so much to see, historic homes, the Pacific Ocean and Coronado's charming downtown. It's fun, it's healthy and you can stay a safe distance from others. Rent your disinfected bike at your resort or at Holland's.
Day 3
The best view of the San Diego city skyline is from a kayak (or paddleboard) in San Diego Bay. It's always sunny and the paddling isn't difficult. Kayaks and paddleboards are sanitized for your safety. You can rent one or two person kayaks from Bike and Kayak Tours at Coronado Ferry Landing.
Close your day by inhaling fresh ocean air during a sunset yoga session on Coronado Beach. It's a great way to stretch, relax and reflect. And the view isn't bad either! There's sunset yoga sessions for all ages and abilities from Island Yoga Coronado.
Day 4
One of Coronado's best kept secrets is the easy hiking along Silver Strand Trail. It's flat, offers lots of space between you and others and is free! You can also bike, rollerblade or job along the trail. On the trail there's native foliage and little critters for you to discover.
Coronado is blessed with an abundance of art throughout the island. A new mobile app guides you to each piece (75 in all!) and shares its cultural background. You can walk or bike at your own pace. You'll find the Coronado Public Art App in the app store on your phone.